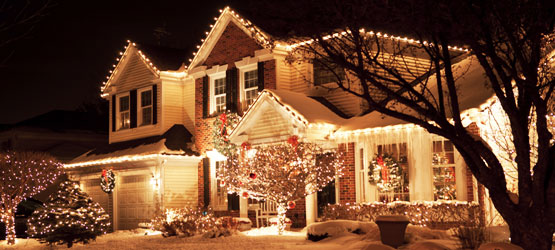 Everyone wants their house to be decked out for the holidays. But who has the time or the energy to put up all those lights, making sure everything is place just so? Light strands can easily become tangled, checking for burnt out bulbs is a hassle, and climbing up and down a ladder is tiring and even dangerous depending on the height of your roof. Isn't it time to let someone take on the task of getting your home Christmas ready?
LawnSavers is the number one residential Christmas decorating service in the Whitchurch-Stouffville area. Whether you live near Hwy 48, in Eastern Gate Village, or anywhere in between we specialize in custom fit LED Christmas lights for homes and businesses. LED lights last longer than normal Christmas lights, shine 5-6x brighter, and use up to 97% less electricity than traditional lights saving you quite a bit of money. And unlike generic store bought lights that don't give you control over length; with our Christmas light installation process we take the time to measure each roof area and custom fit the length of each strand of lights. There are no loose wires hanging around, or strands jumping from roof line to roof line causing an unkempt appearance. Everything is neat and tidy!
What Does Your Christmas Lights Installation Include?
All you need to provide is the power. We take care of everything else needed to complete your project. We provide & include:
The design
The decorations, timers, extension cords & lights
The installation of the Christmas lights
Timely removal of the lights once the season is over. Including itemizing and storing everything safely for next year.
Hassle-free replacement! If any part breaks on its own before Christmas we'll come and replace them.
However simple or elaborate your decorating vision may be, our jolly professional design consultant will meet with you at your home; working to turn your Christmas decorating dreams into reality. Robust wreaths, fuller garlands and other festive greenery adorned with pine cones and ribbons will be sure to beautify your home for the holidays!
If you live in the Whitchurch-Stouffville area and are interested in having professional Christmas light installers help you this season, please fill out our contact form or give us a call at 905-707-9994. Decor & Lighting packages start at $1000.
Check out what J. Serpe had to say about us on
Homestars
.
"I have been using LawnSavers Christmas lighting for about 3 years and would not recommend anyone else but them to do your Christmas lights. Their attention to detail is impeccable and always make sure the lights are to perfection. The lights speak for themselves but what is truly amazing is the service that the staff (Elves) provide. They ensure that the lights are perfect until Christmas and if there are any problems, they are there to fix them as soon as possible. Knowing that the Elves are there to make sure everything is perfect makes Christmas lighting less stressful. Head Elf Kyle and Stephanie are extremely helpful and treat you as if you are family. I truly would not recommend anyone else to do Christmas lights but them.
"
5/5 ⭐⭐⭐⭐⭐
J. Serpe
(Sept 10, 2017)
Other Christmas Services In The Whitchurch-Stouffville Area
Christmas Tree Farms
Gerencer Family Tree Farm
12681 Kennedy Rd,
Whitchurch-Stouffville, ON
(905) 888-9214
http://sgtreefarm.com/
Horton Tree Farms
5924 Slaters Rd,
Whitchurch-Stouffville,
(905) 888-1738
http://www.hortontreefarms.com/
Tufford's Tree Farm
5578 St Johns Side Rd,
Whitchurch-Stouffville,
(905) 640-2548
https://m.facebook.com/TuffordsTrees/
Christmas Decorations & Wreaths
Candlelight And Memories
6198 Main St,
Whitchurch-Stouffville, ON
(905) 642-4940
https:// www.candlelightandmemories.com/
Centerpiece Flowers
5892 Main St,
Whitchurch-Stouffville, ON
(905) 640-3232
https://www.stouffvilleflowershop.com/
Winners
1010 Hoover Park Dr Unit 1,
Whitchurch-Stouffville, ON
(905) 642-6500
https://www.winners.ca/
Photography Studios
Sweet Tales Photography
Christian Hoover Dr,
Whitchurch-Stouffville, ON
(647) 239-1044
Ken Jarvis Photography
363 Loretta Crescent,
Whitchurch-Stouffville, ON
(647) 888-7388
http://www.kenjarvisphotography.ca/
EMBLAZE Photography
27 Delbert Cir,
Whitchurch-Stouffville, ON
(647) 860-7401
https:// www.emblazephotography.com/
Bakeries
Main Street Bakehouse
6236 Main St,
Whitchurch-Stouffville, ON
(905) 591-5900
http://mainstreetbakehouse.com/
Reesor's Market & Bakery
5758 Main St,
Whitchurch-Stouffville, ON
(905) 640-2270
http://www.reesors.ca/
Beverley's Bakers
86 Ringwood Dr, #unit 44,
Whitchurch-Stouffville, ON
(905) 642-1155
http:// www.beverleysbakers.ca/