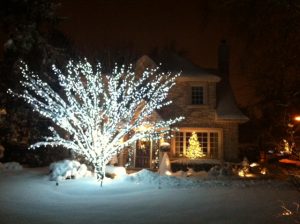 Whitby is a historic and scenic city set right on Lake Ontario nestled between Ajax and Oshawa. With a mixture of a bustling downtown core in the southern regions and a scenic rural setting to the north, Whitby is a beautifully diverse community. It is especially lovely at Christmas time when twinkling light displays line the various neighbourhood streets. But decorating can be a hassle. We want the end result without the tiring and occasionally dangerous work. That is where LawnSavers can come to the rescue. Our dedicated Christmas light installation professionals can ensure your home looks elegant, festive and fantastic this Christmas season! We have been installing beautiful Christmas lights in Whitby for many years.
Why Getting Your Christmas Lights Installed In Whitby Is Worth the Cost
Whether it's dealing with burnt out bulbs, tangled wires, or climbing up and down a ladder, there are many reasons why letting someone else handle the job of installing your Christmas lights is worth it. Whether you live near Lakefront Park West, in Brooklyn, by Hwy 412 or anywhere in between we will come to your Whitby residence and help bring your Christmas decorating vision to life. The difference in having someone else handle your Christmas light installation is that we specialize in custom fit LED Christmas lights for homes and businesses. LED lights last longer than normal Christmas lights, shine 5-6x brighter, and use up to 97% less electricity than traditional lights. And we take the time to measure each roof area and custom fit the length of each strand of lights during our Christmas light installation process.
All you need to provide is the power. We take care of everything else needed to complete your Christmas decorating project. The cost of installing your Christmas lights in Markham includes:
The design
The decorations, timers, extension cords & lights
The installation of the Christmas lights
Timely removal of the lights once the season is over. Including itemizing and storing everything safely for next year.
Hassle-free replacement! If any part breaks on its own before Christmas we'll come and replace them.
One of our professional Christmas decorating design consultants will come right to your Whitby home. We will sit down with you and help you figure out exactly how to give you the best looking home in the neighbourhood this Christmas! With Decor & Lighting packages starting at a price of $1000, see some of our beautiful design work for yourself check out our gallery.
If you live in Whitby and are interested in having professional Christmas light installers help you this season, please fill out our contact form or give us a call at 416-707-9994.
Check out what Vince had to say about us on
Google
.
"WOW, spectacular! That's the word that all our guests said as they walked through the door. "The Christmas lights are spectacular" "WOW, feels like we are in a winter wonderland with the lights and snow." Working with the team was great, very professional and wanted to make sure we were very happy with the installation of the Christmas lights."
5/5 ⭐⭐⭐⭐⭐
Vince Galifi
(Sept 11, 2017)
Other Christmas Services In The Whitby Area
Christmas Tree Farms
Prestonvale Tree Farms
1421 Prestonvale Rd,
Courtice, ON
(800) 311-6964
http://www.prestonvaletreefarms.com/
Hope's Christmas Tree Farm
1962 Durham Regional Rd 3,
Hampton, ON
(905) 261-5040
http://hopeschristmastreefarm.com/
Spademan Tree Farm
545 Durham Regional Rd 21,
Port Perry, ON
(905) 985-7291
http://spademantreefarm.com/
Christmas Decorations & Wreaths
Santa'Ville
419 King St W,
Oshawa, ON
(647) 277-5074
https://www.santaville.com/
Urban Barn Thickson Ridge
1629 Victoria St E Unit #15,
Whitby, ON
(905) 721-2673
Michaels
1751 Victoria St E,
Whitby, ON
(289) 316-0682
https://locationsca.michaels.com/on/whitby/4930/
Photography Studios
Blue Phoenix Studios
10 Sunray St #13,
Whitby, ON
(289) 600-5741
http://www.bluephoenixstudios.com/
Razeeb Chowdhury Photography Inc.
114 Jones Ct,
Whitby, ON
(647) 996-4976
http:// www.razeebchowdhury.com/
Elle Marie Photography
112 Athol St #206,
Whitby, ON
(416) 579-3917
http:// www.ellemariephotography.com/
Bakeries
Cupcake Junkie Bakery & Cafe
404 Brock St S,
Whitby, ON
(905) 430-3200
http://cupcakejunkie.ca/
Creative Cakes by Susi
157 Elizabeth Crescent N,
Whitby, ON
(905) 444-9403
http:// www.creativecakesbysusi.com/
G's Divine European Sweets
118 Athol St,
Whitby, ON
(416) 419-4448
http://divineeuropeansweets.com/