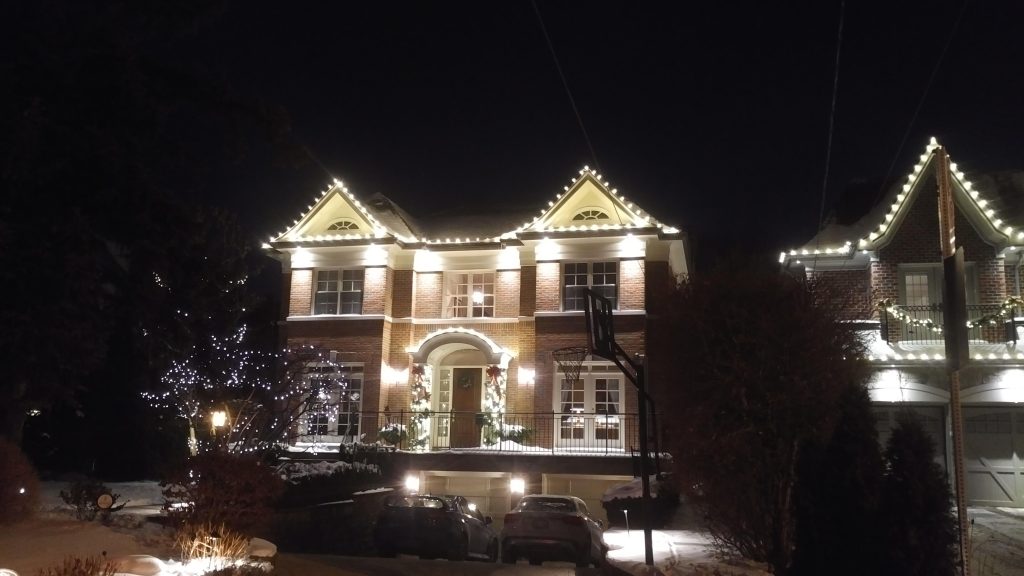 Christmas is such a festive time of year, but if you're like most of us the thought of spending hours climbing up rickety, old ladders, untangling bundles of wires, and checking endless bulbs for burnt out ones just to decorate your home for Christmas fills you with dread? That is where the dedicated team of Christmas light installation professionals at LawnSavers is here to help. We'll ensure your home looks elegant, festive and fantastic! We have been installing beautiful Christmas lights in Thornhill for many years.
Why Getting Your Christmas Lights Installed In Thornhill Is Worth It
Thornhill is a bustling suburban community nestled between Vaughan and Markham. Every home is different, and every homeowner has different ideas about what they want their exterior Christmas decorations to look like. Whether you live by Centerpoint Mall, The Thornhill Club, near Major MacKenzie Dr, or anywhere in between; our residential Christmas light installation experts can work with you to bring your Christmas decorating vision to life. The difference in having someone else handle the installation is that we specialize in custom fit LED Christmas lights for homes and businesses. LED lights last longer than normal Christmas lights, shine 5-6x brighter, and use up to 97% less electricity than traditional lights. And we take the time to measure each roof area during our Christmas light installation process. Making sure to custom fit the length of each strand of lights.
All you need to provide is the power. We take care of everything else needed to complete your project. We provide & include:
The design
The decorations, timers, extension cords & lights
The installation of the Christmas lights
Timely removal of the lights once the season is over. Including itemizing and storing everything safely for next year.
Hassle-free replacement! If any part breaks on its own before Christmas we'll come and replace them.
And the designs are completely customizable. One of our professional Christmas decorating design consultants will come right to your home. With Decor & Lighting packages start at $1000, we can help you decide which look will give you the best looking home in the neighbourhood!
If you live in Thornhill and are interested in having professional Christmas light installers help your home look spectacular this season, please fill out our contact form or give us a call at 416-707-9994.
Check out what Beverley had to say about us on
Facebook
.
"Have been using them for years and they do a great job
"
5/5 ⭐⭐⭐⭐⭐
Beverley Laderman
(April 28, 2020)
Other Christmas Services In The Thornhill Area
Christmas Tree Farms
Gerencer Family Tree Farm
12681 Kennedy Rd,
Whitchurch-Stouffville, ON
(905) 888-9214
http://sgtreefarm.com/
Horton Tree Farms
5924 Slaters Rd,
Whitchurch-Stouffville,
(905) 888-1738
http://www.hortontreefarms.com/
Tufford's Tree Farm
5578 St Johns Side Rd,
Whitchurch-Stouffville,
(905) 640-2548
https://m.facebook.com/TuffordsTrees/
Christmas Decorations & Wreaths
Santa'Ville
9350 Yonge St,
Richmond Hill, ON
(647) 576-2082
https://www.santaville.com/
Tree in a Tote
300 Steelcase Rd W Unit 36,
Markham, ON
(416) 319-1043
http://www.treeinatote.com/
Treasures & Co.
8108 Yonge St,
Thornhill, ON
(905) 763-0349
http://treasuresco.com/
Photography Studios
Studio Arash
60 Green Ln #34,
Thornhill, ON
(416) 890-4498
http://studioarash.com/
UMING VISION
7163 Yonge St Unit 113,
Toronto, ON
(647) 867-9694
http://www.uming.ca/
Zodiac Photography
133 Newport Square,
Thornhill, ON
(416) 616-0071
https://www.zodiacpix.com/
Bakeries
Le Delice Fine Cakes
7355 Bayview Ave, Thornhill, ON
(905) 707-3375
http://www.ledelice.ca/
Chocolada
180 Steeles Ave W #11,
Thornhill, ON
(905) 882-4825
http://www.chocolada.com/
Vegan Danish Bakery
7718 Yonge St, Thornhill, ON
(905) 882-1331
https:// vegandanishbakery.wordpress.com/