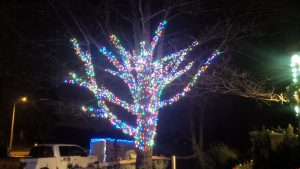 Richmond Hill is a beautiful community, at one time known at the rose capitol of Canada. With lovely parks and green spaces, and a charming downtown core. And it is particularly lovely at Christmas time when twinkling displays of lights appear throughout the various neighbourhoods. Decorating your home for Christmas is a wonderful way to celebrate the holidays but it can also be a ton of work. That is why you should let the dedicated Christmas light installation professionals at LawnSavers handle putting up your lights and decorations this year.

We are your number one Christmas lights installation company in Richmond Hill;

and can ensure your home looks elegant, festive and fantastic this Christmas season!
Why Getting Your Christmas Lights Installed In Richmond Hill Is Worth It
Who wants to deal with testing burnt out bulbs, trying to untangle wires, and climbing up and down a ladder? The Christmas decorating experts at LawnSavers can handle the job of installing your Christmas lights instead. Whether you live by Lake Wilcox Park, Elgin Mills, by Hwy 407 or anywhere in between we will come visit you at your Richmond Hill residence and create a lighting and decoration design that will bring your Christmas vision to life.
The difference in having professionals handle your Christmas light installation is that we specialize in custom fit LED Christmas lights for homes and businesses. LED lights last longer than normal Christmas lights, shine 5-6x brighter, and use up to 97% less electricity than traditional lights. And during our Christmas light installation process, we measure each roof area and custom fit the length of each strand of lights so everything looks perfectly sized.
All you need to provide is the power. We take care of everything else to complete your Christmas decorating project. We provide & include:
The design
The decorations, timers, extension cords & lights
The installation of the Christmas lights
Timely removal of the lights once the season is over. Including itemizing and storing everything safely for next year.
Hassle-free replacement! If any part breaks on its own before Christmas we'll come and replace them.
One of our professional Christmas decorating design consultants will come to your Richmond Hill home; and help you figure out the best and most beautiful way to decorate your house this Christmas! To see some of our design work for yourself check out our gallery.
If you live in Richmond Hill and are interested in having professional Christmas light installers help you this season, please fill out our contact form or give us a call at 416-707-9994.