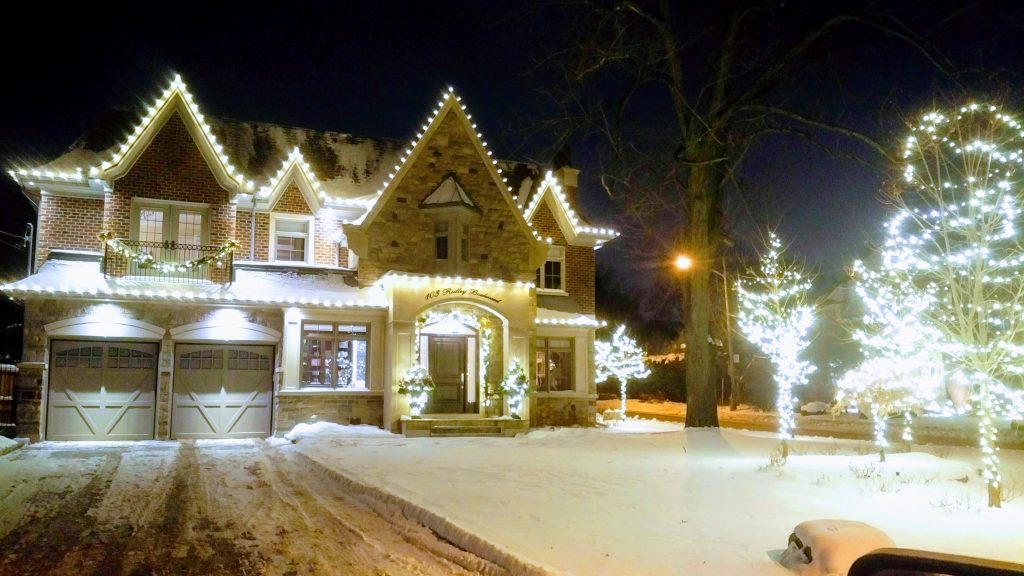 Does the thought of spending hours climbing up rickety, old ladders, untangling bundles of wires, and checking endless bulbs for burnt out ones just to decorate your home for Christmas fill you with dread? If so, why not let the dedicated team of Christmas light installation professionals at LawnSavers take the work and worry out of the decorating process? We'll ensure your home looks elegant, festive and fantastic! We have been installing beautiful Christmas lights in North York for many years.
Why Getting Your Christmas Lights Installed In North York Is Worth It
North York is a large busy region with many unique and diverse communities. Every home is different, and every homeowner has different tastes. Whether you live in Hogg's Hollow, Hillcrest Village, Humber Summit or anywhere in between; our residential Christmas light installation experts can work with you to bring your Christmas decorating vision to life. The difference in having someone else handle the installation is that we specialize in custom fit LED Christmas lights for homes and businesses. LED lights last longer than normal Christmas lights, shine 5-6x brighter, and use up to 97% less electricity than traditional lights. And with our Christmas light installation process we take the time to measure each roof area and custom fit the length of each strand of lights.
All you need to provide is the power. We take care of everything else needed to complete your project. We provide & include:
The design
The decorations, timers, extension cords & lights
The installation of the Christmas lights
Timely removal of the lights once the season is over. Including itemizing and storing everything safely for next year.
Hassle-free replacement! If any part breaks on its own before Christmas we'll come and replace them.
And the designs are completely customizable. One of our professional Christmas decorating design consultants will come right to your home. With Decor & Lighting packages start at $1000, we can help you decide which look will give you the best looking home in the neighbourhood!
If you live in North York and are interested in having professional Christmas light installers help you this season, please fill out our contact form or give us a call at 416-707-9994.
Check out what Vince had to say about us on
Google
.
"WOW, spectacular! That's the word that all our guests said as they walked through the door. "The Christmas lights are spectacular" "WOW, feels like we are in a winter wonderland with the lights and snow." Working with the team was great, very professional and wanted to make sure we were very happy with the installation of the Christmas lights."
5/5 ⭐⭐⭐⭐⭐
Vince Galifi
(Sept 11, 2017)
Other Christmas Services In The North York Area
Christmas Tree Farms
The Real Tree Christmas Tree Co
2681 Danforth Ave,
Toronto, ON
Ontario Tree Farms
12465 Albion Vaughan Rd,
Kleinburg, ON
(416) 606-6883
http://ontariotreefarms.com/
Gerencer Family Tree Farm
12681 Kennedy Rd,
Whitchurch-Stouffville, ON
(905) 888-9214
http://sgtreefarm.com/
Christmas Decorations & Wreaths
Tree in a Tote
300 Steelcase Rd W,
Markham, ON
(416) 319-1043
http://www.treeinatote.com/
Santa'Ville
9350 Yonge St,
Richmond Hill, ON
(647) 699-2939
http://www.santaville.ca/
The Snowman Factory
5990 Rutherford Rd,
Woodbridge, ON
(905) 856-7669
http:// snowmanfactory.com/
Photography Studio
Paul Krol Photography
55 Ellerslie Ave,
North York, ON
(541) 900-2146
http://www.paulkrol.net/
Diego and Liza Photography
509 Beecroft Rd,
North York, ON
(647) 530-3403
http://www.diegoandliza.com/
Marevna photography
30 Kern Rd,
North York, ON
(647) 325-3565
http:// marevnaphotography.com/
Bakeries
Bake Code
4910 Yonge St,
North York, ON
(647) 346-3888
http://bakecode.com/
Bread & Roses Bakery Cafe
2901 Bayview Ave,
North York, ON
(416) 221-2001
http://www.bayviewvillageshops.com/store/bread-and-roses
Bakery Gateau
865 York Mills Rd #1,
North York, ON
(647) 727-8866
http://bakerygateau.ca/