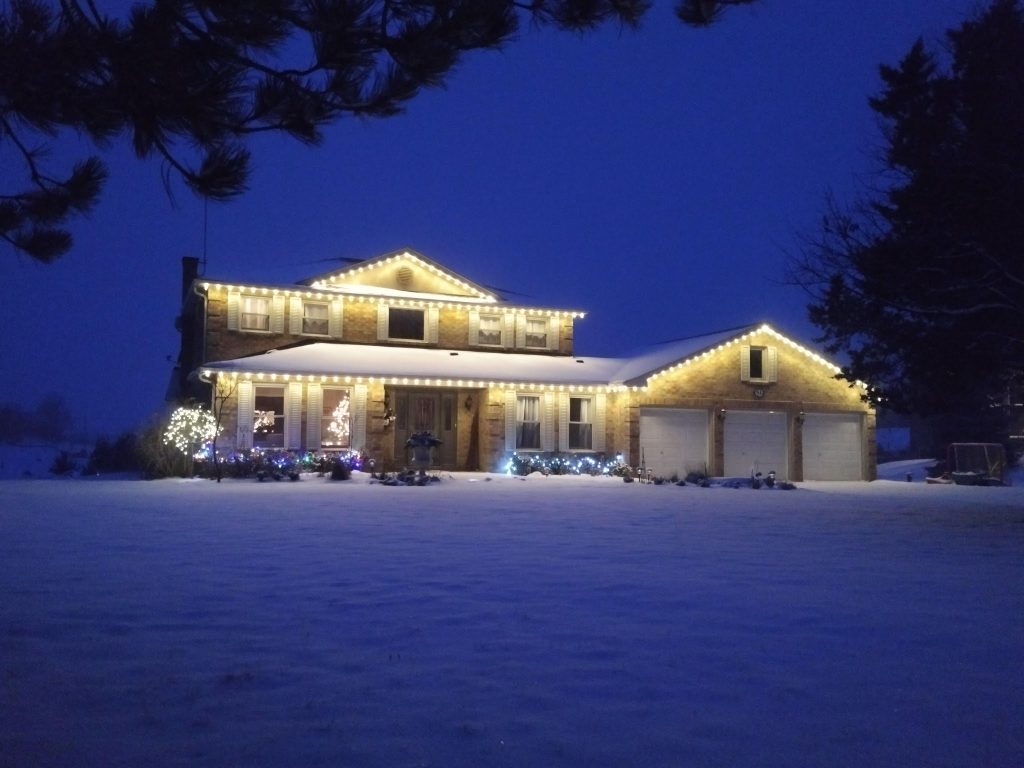 Are you considering having professional Christmas lights installed this year? Wondering what the cost is to have your Christmas lights installed in Newmarket? When the snow and frost cover the ground and the grass is no longer visible it can be hard to motivate yourself to head out into that weather and worry about checking burnt out bulbs, untangling bundles of wires and climbing rickety, old ladders. Why not let our Christmas Lights Installation experts become your #1 choice for lighting up your home in Newmarket this holiday season?
Why Hire a Professional to Install Your Christmas Lights in Newmarket?
Every home is different, and every homeowner has different tastes. Whether you live in Stonehaven, by Upper Canada Mall, near Hwy 404 or anywhere in between; our residential Christmas light installation experts can work with you to bring your Christmas decorating vision to life. The difference in having someone else handle the installation is that we specialize in custom fit LED Christmas lights for homes and businesses. LED lights last longer than normal Christmas lights, shine 5-6x brighter; and use up to 97% less electricity than traditional lights. And with our Christmas light installation process we take the time to measure each roof area and custom fit the length of each strand of lights; to avoid unsightly wires hanging down.
All you need to provide is the power. We take care of the rest to complete your Christmas decorating project. We provide & include:
The design
The decorations, timers, extension cords & lights
The installation of the Christmas lights
Timely removal of the lights once the season is over. Including itemizing and storing everything safely for next year.
Hassle-free replacement! If any part breaks on its own before Christmas we'll come and replace them.
However simple or elaborate your decorating dreams may be; our jolly professional design consultant will meet with you at your Newmarket home. It is well worth the cost to have your Christmas lights installed at your Newmarket home. We will help you combine your vision with our unique ideas. Robust wreaths, thicker, fuller garlands and other festive greenery adorned with pine cones and ribbons will be sure to beautify your home for the holidays!
If you live in Newmarket and are interested in having professional Christmas light installers help you this season, please fill out our contact form or give us a call at 905-707-9994. Decor & Lighting packages start at a price of $1000.
Check out what Vince had to say about us on
Google
.
"WOW, spectacular! That's the word that all our guests said as they walked through the door. "The Christmas lights are spectacular" "WOW, feels like we are in a winter wonderland with the lights and snow." Working with the team was great, very professional and wanted to make sure we were very happy with the installation of the Christmas lights."
5/5 ⭐⭐⭐⭐⭐
Vince Galifi
(Sept 11, 2017)
Other Christmas Services In The Newmarket Area
Christmas Tree Farms
Horton Tree Farms
15899 Kennedy Rd,
Whitchurch-Stouffville, ON
(800) 420-7385
http://www.hortontreefarms.com/
Cormack's Christmas Tree Farm
6119 Concession 3 Rd,
Goodwood, ON
http:// www.cormacktrees.com/
MacPherson Christmas Tree Farm
17422 ON-48,
Whitchurch-Stouffville, ON
(905) 717-0499
Christmas Decorations & Wreaths
Hallmark
17600 Yonge St Unit E26 Upper Canada Mall Floor Lower Lvl,
Newmarket, ON
(905) 895-7641
https://stores.hallmark.com/on/newmarket/hallmark-curbside-pick-up-only-newmarket-on-031832.html
HomeSense
17940 Yonge St,
Newmarket, ON
(905) 830-4418
https://www.homesense.ca/
Michaels
18091 Yonge St,
Newmarket, ON
(905) 853-6639
https://locationsca.michaels.com/on/newmarket/3927/
Photography Studios
Knight Image Photography
119 Lowe Blvd,
Newmarket, ON
(647) 862-8510
http:// www.knight-image.com/
Baby'n Bloom photo studio
489 Timothy St,
Newmarket, ON
(905) 251-0053
http://www.babynbloom.ca/
Magenta Photo Upper Canada Mall
17600 Yonge St ee32,
Newmarket, ON
(905) 836-5252
http:// www.magentaphoto.com/en/
Bakeries
Baker's Crush
465 Timothy St,
Newmarket, ON
(289) 926-6443
http://www.bakerscrush.com/
Nutmeg Bakeshop
256 Main St S,
Newmarket, ON
(289) 796-1802
http://www.nutmegbakeshop.com/
Mercato on Main
47 Main St S Units 3 & 4,
Newmarket, ON
(905) 235-6400