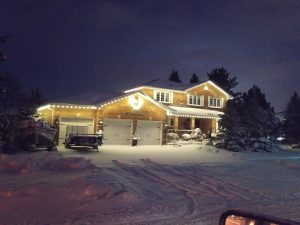 Christmas is such a wonderful time of year with the twinkling lights and dazzling decorations. But if you're like most of us the thought of spending hours untangling wires, checking for burnt out bulbs, and climbing up rickety, old ladders, just to decorate your home for Christmas fills you with dread? That is where the dedicated team of Christmas light installation professionals at LawnSavers is here to help. We'll ensure your home looks elegant, festive and fantastic! We have been installing beautiful Christmas lights in Mississauga for many years.
Why Getting Your Christmas Lights Installed In Mississauga Is Worth It
Mississauga is a large vibrant multicultural community with tons of activities for young and old alike. Every home is different, and every homeowner has different ideas about what they want their exterior Christmas decorations to look like. Whether you live down by Port Credit, near Pearson International Airport, by Hwy 403, or anywhere in between; our residential Christmas light installation experts can work with you to bring your Christmas decorating vision to life. The difference in having someone else handle the installation is that we specialize in custom fit LED Christmas lights for homes and businesses. LED lights last longer than normal Christmas lights, shine 5-6x brighter, and use up to 97% less electricity than traditional lights. And we take the time to measure each roof area during our Christmas light installation process. Making sure to custom fit the length of each strand of lights.
All you need to provide is the power. We take care of everything else needed to complete your project. We provide & include:
The design
The decorations, timers, extension cords & lights
The installation of the Christmas lights
Timely removal of the lights once the season is over. Including itemizing and storing everything safely for next year.
Hassle-free replacement! If any part breaks on its own before Christmas we'll come and replace them.
We use top quality commercial grade decorations that will last for years, designed to suit your decorating tastes. One of our professional Christmas decorating design consultants will come right to your home. With Decor & Lighting packages start at $1000, we can help you decide which look will give you the best looking home in the neighbourhood!
If you live in Mississauga and are interested in having professional Christmas light installers help your home look spectacular this season, please fill out our contact form or give us a call at 416-707-9994.
Check out what Oliver in Mississauga had to say about us on
Homestars
.
"I discovered LawnSavers Christmas Light Decorators in 2015. After moving into my new house the thought of researching, buying and installing outdoor Christmas lights for our now larger house was a little overwhelming. I called LawnSavers and spoke with a friendly lady who arranged for a designer to visit my house the next day. The design proposal incorporated all my ideas and some additional creative suggestions. I'm thrilled with the quality of the work; custom cut lights at the perfect length for my house (using the colour scheme I requested), no visible extension cords; beautiful lush garland and classic big red bows. I came home from work one day and everything was installed. Then one day in January I came home and it was all gone. I can't explain the joy and relief I have knowing that our home is beautifully decorated for Christmas and I DON'T HAVE TO DO IT! 🙂 Finally, every compliment I receive from guests to my home at Christmas reinforces what a great decision I made to hire Kyle and his LawnSavers team."
5/5 ⭐⭐⭐⭐⭐
Oliver
(Sept 11, 2017)
Other Christmas Services In The Bradford Area
Christmas Tree Farms
Christmas Tree Farms Direct
5635 McAdam Rd,
Mississauga, ON
(647) 799-9589
https://christmas-tree-farms-direct-inc.business.site/
Willy's Christmas Trees
Mississauga, ON
Tree Lot at St. George's on the Hill
4600 Dundas St W,
Etobicoke, ON
(416) 716-5509
https://tree-lot-at-st-georges-on-the-hill.business.site/
Christmas Decorations & Wreaths
Crafted Décor
232 Queen St S,
Mississauga, ON
(905) 567-9795
http://www.crafteddecor.ca/
Rudolph and I Personalized Ornaments
100 City Centre Dr,
Mississauga, ON
(905) 277-0457
Christmas Tradition
6605 Ordan Dr,
Mississauga, ON
(800) 561-5515
http://www.christmas-tradition.com/
Photography Studios
Lindsey Macdonald Photography
1965 Britannia Rd W #215,
Mississauga, ON
(416) 917-1064
http://www.lindseymacdonald.com/
Azure Blue Photography and Cinema
276 King Andrew Dr,
Mississauga, ON
(905) 277-2068
https:// azureblue.ca/
As It Happens Photography
1620 Cawthra Ct,
Mississauga, ON
(905) 616-5454
http://www.asithappensphoto.com/
Bakeries
Truscott Italian Bakery & Delicatessen
2425 Truscott Dr,
Mississauga, ON
(905) 403-9550
http://truscottbakery.com/
Le Delice Pastry Shop
1150 Lorne Park Rd,
Mississauga, ON
(905) 278-9684
http://www.ledelicepastryshop.com/
Bakery on Mavis
5700 Mavis Rd,
Mississauga, ON
(905) 507-0959
http://brazilbakerypastry.ca/