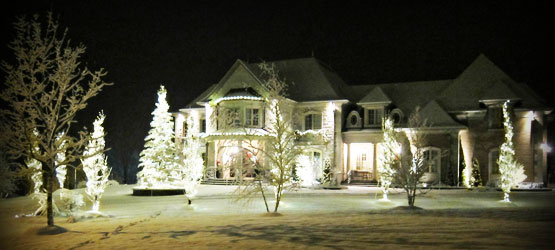 The historic village of Kleinburg set within the city of Vaughan is charming and scenic especially at Christmas time. Decorating your home is a perfect way to pay homage to the quaintness of this town, but taking the time to put up all of the decorations can be frustrating. Spending hours dealing with bundles of wires to untangle, endless bulbs to check for burnt out ones, and then climbing up and down on a ladder. A better way is to let the dedicated team of Christmas light installation professionals at LawnSavers decorate your home for you. We have been installing beautiful Christmas lights in Kleinburg for many years.
We will meet with you and one of our professional Christmas decorators will discuss your decorating vision for your home. Our goal is to make sure you get the best value and make the biggest impact; so we will create and install a design of your choosing, that works within your budget. And we sell only commercial quality decorations that are yours to keep when the season is over. Your home will be stand out in your neighbourhood; elegantly and festively decorated this Christmas season!
Why Getting Your Christmas Lights Installed In Kleinburg Is Worth It
Whether you live near the McMichael Canadian Art Gallery, Highway 27, or anywhere in between; our residential Christmas light installation experts are happy to come to your home and spend the time to make it truly beautiful. When you let someone else handle the installation it ensures that everything goes smoothly. We take the time to measure each roof area and custom fit the length of each strand of lights, with our Christmas light installation process. And we only use custom fit LED Christmas lights for homes and businesses. These LED lights last longer than normal Christmas lights, shine 5-6x brighter, and use up to 97% less electricity than traditional lights.
All you need to provide is power. We take care of everything else needed to complete your Christmas decorating project in Kleinburg. We provide & include:
The design
The decorations, timers, extension cords & lights
The installation of the Christmas lights
Timely removal of the lights once the season is over. Including itemizing and storing everything safely for next year.
Hassle-free replacement! If any part breaks on its own before Christmas we'll come and replace them.
If you live in Kleinburg and are interested in having professional Christmas light installers help you this season, please fill out our contact form or give us a call at 416-707-9994. Decor & Lighting packages start at $1000.
Check out what Beverley had to say about us on
Facebook
.
"Have been using them for years and they do a great job
"
5/5 ⭐⭐⭐⭐⭐
Beverley Laderman
(April 28, 2020)
Other Christmas Services In The Kleinburg Area
Christmas Tree Farms
Ontario Tree Farms
12465 Albion Vaughan Rd,
Kleinburg, ON
(416) 606-6883
http://ontariotreefarms.com/
Caledon Treeland
15316 Mt Wolfe Rd,
Bolton, ON
(905) 880-1828
https:// www.treeland.ca/
Horton Tree Farms
5924 Slaters Rd,
Whitchurch-Stouffville, ON
(905) 888-1738
http://www.hortontreefarms.com/
Christmas Decorations & Wreaths
The Snowman Factory
5990 Rutherford Rd,
Woodbridge, ON
(905) 856-7669
http:// snowmanfactory.com/
Santa'Ville
9350 Yonge St,
Richmond Hill, ON
(647) 699-2939
http://www.santaville.ca/
The Sisters Touch of Christmas
14155 Caledon King Townline S,
Bolton, ON
(905) 859-8077
https://thesisterstoc.com/
Photography Studios
Blue Orchid Creations Photography
Ansley Grove Rd,
Woodbridge, ON
(416) 788-4064
http://www.blueorchidcreations.ca/
Fable Studios Weddings & Portraits Photography/Videography
8201 Weston Rd #3,
Woodbridge, ON
(647) 692-6774
http://www.fablestudios.ca/
Photo Shoot Brampton Moga Film Studio Wedding Photography Videography
275 Gardenbrooke Trail #204,
Brampton, ON
(905) 500-1313
https:// www.mogavideo.ca/
Bakeries
Molisana Bakery
5731 Hwy 7,
Woodbridge, ON
(905) 856-6100
Nino D'Aversa Bakery
7960 Kipling Ave,
Woodbridge, ON
(905) 851-2211
http:// ninodaversa.com/locations/
Carla's Cookie Box
31 Chicory Gate,
Woodbridge, ON
(647) 271-3347
https://carlacookiebox.com/