King City is a beautiful place during the winter months. The snow turns King City into a winter wonderland. When it comes to decorating your home for the holiday season we have you covered. We have over 26 years of experience designing and building top landscapes, and decorating the Greater Toronto Areas finest homes.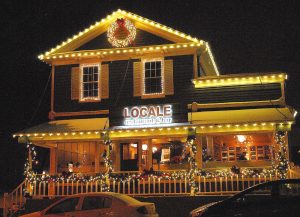 How does the Christmas Lights Installation work?
It starts with a simple call, then a design appointment.
We'll work within your budget to get you the best value and make the biggest impact. Decor packages start at $1000 including electrical setup, labour and materials to install, a maintenance visit, take-down and storage, and will typically average $2000-$4000 in the first year depending on your home and decorating dreams.
We provide and sell you our commercial quality decorations that will last many years so you own them (unlike expensive rentals).
A totally customized solution!
Everything is custom fit to your house and included in our price (all extension cords, hooks, hangers and timers etc.) you don't have to worry about anything!
We schedule a date and then we install (weather permitting).
We come back regularly to make sure the decorations look great and are working properly.
We take down the decorations during January or February (whenever it is safe weather-wise) to be on ladders and roofs and include the cost to store them for you.
Next year, the cost is much less since you already own the decorations!
Some people want to start with the whole works while others like to add-on a little each year.
Here's what Jason D from King City said:
"Our home looks AMAZING and we couldn't be happier! Thank you LawnSavers Christmas Decorators for making our holiday extra special this year!!"
Check out some of the Christmas light installation jobs we have completed in King City