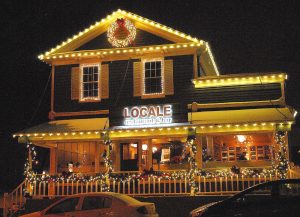 King City is a beautiful place during the winter months. The snow turns King City into a winter wonderland and at Christmas time the lights and decorations dazzle. But if you're like most of us the thought of spending hours untangling wires, checking for burnt out bulbs, and climbing up rickety, old ladders, out ones just to decorate your home for Christmas fills you with dread? That is where the dedicated team of Christmas light installation professionals at LawnSavers is here to help. We'll ensure your home looks elegant, festive and fantastic! We have been installing beautiful Christmas lights in King City for many years.
Why Getting Your Christmas Lights Installed In King City Is Worth It
King City is a quaint scenic community just north of Toronto, filled with charm. Every homeowner has different ideas about what they want their exterior Christmas decorations to look like. Whether you live in Clearview Heights, Heritage Park, or anywhere in between; our residential Christmas light installation experts can work with you to bring your Christmas decorating vision to life. The difference in having someone else handle the installation is that we specialize in custom fit LED Christmas lights for homes and businesses. LED lights last longer than normal Christmas lights, shine 5-6x brighter, and use up to 97% less electricity than traditional lights. And we take the time to measure each roof area during our Christmas light installation process. Making sure to custom fit the length of each strand of lights to avoid unsightly wires hanging down.
All you need to provide is the power. We take care of everything else needed to complete your project. We provide & include:
The design
The decorations, timers, extension cords & lights
The installation of the Christmas lights
Timely removal of the lights once the season is over. Including itemizing and storing everything safely for next year.
Hassle-free replacement! If any part breaks on its own before Christmas we'll come and replace them.
We use top quality commercial grade decorations that will last for years, designed to suit your decorating tastes. One of our professional Christmas decorating design consultants will come right to your home. With Decor & Lighting packages start at $1000, we can help you decide which look will give you the best looking home in the neighbourhood!
If you live in King City and are interested in having professional Christmas light installers help your home look spectacular this season, please fill out our contact form or give us a call at 416-707-9994.
Check out what Beverley had to say about us on
Facebook
.
"Have been using them for years and they do a great job
"
5/5 ⭐⭐⭐⭐⭐
Beverley Laderman
(April 28, 2020)
Other Christmas Services In The King City Area
Christmas Tree Farms
Ontario Tree Farms
12465 Albion Vaughan Rd,
Kleinburg, ON
(416) 606-6883
http://ontariotreefarms.com/
Gerencer Family Tree Farm
12681 Kennedy Rd,
Whitchurch-Stouffville, ON
(905) 888-9214
http://sgtreefarm.com/
Horton Tree Farms
5924 Slaters Rd,
Whitchurch-Stouffville, ON
(905) 888-1738
http://www.hortontreefarms.com/
Christmas Decorations & Wreaths
Santa'Ville
9350 Yonge St,
Richmond Hill, ON
(647) 699-2939
http://www.santaville.ca/
The Sisters Touch of Christmas
14155 Caledon King Townline S,
Bolton, ON
(905) 859-8077
https://thesisterstoc.com/
Mill Pond Card & Gift Co.
10520 Yonge St Unit 7A,
Richmond Hill, ON
(647) 448-8873
https://millpondcardgift.com/collections
Photography Studios
Stallone Media Group
12958 Keele St,
King City, ON
(905) 326-3300
http://www.stallonemedia.com/
KCS Photography
32 Carmichael Crescent,
King City, ON
(905) 833-3045
Stay Focus Photography
22 Holtby St,
Richmond Hill, ON
(647) 914-1468
http://www.stayfocuspro.com/
Bakeries
Gramma's Oven European Bakery & Café
12960 Yonge St,
Richmond Hill, ON
(905) 773-7049
http://www.grammasovenbakery.com/
Lago Italian Bakery Inc
12930 Yonge St,
Richmond Hill, ON
(905) 773-1030
Cappuccino Bakery
5978 King Rd,
Nobleton, ON
(905) 859-4414