Are you another aspiring Clark Griswold, planning on spending hours climbing rickety, old ladders and untangling bundles of wire to hang your Christmas lights this year?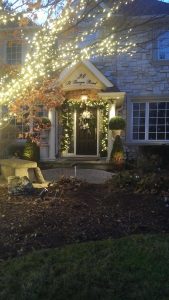 Why don't you let our dedicated team of Christmas light installation professionals take the work and worry out of the decorating process? We'll ensure your home looks elegant, festive and fantastic! LawnSavers has been installing beautiful Christmas lights in Etobicoke for many years.
I'm sold, but how much does it cost?
Every home is different, and every home owner has different tastes. The minimum job is $750.00, however an average job in the first year including lining the front of the house with LED C9 lights, Garland around the front door, a beautiful wreath and a couple average trees adorned with LED mini-lights, could be somewhere around the 1800.00-3500.00 price point or more, depending on the size of your home or business, slope of roofs and property and the scope. of the projects decor. Keep in mind that this price is for the first year only and it includes the cost of lights, extension cords, timers, installation, take-down and storage. You own the lights, so NEXT year's installation may be somewhere around 40-50% of that price. You will also save a load of money on electricity, and be the envy of the neighborhood (but more importantly- your family!)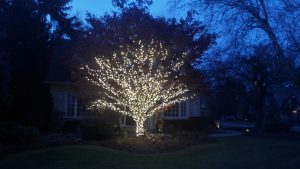 So what are you waiting for? Your very own Rockefeller Center Christmas Tree is just a phone call away! Get some ideas or an estimate here.
Tell us, what are your must-haves for Christmas Decorations in the Greater Toronto Area?
Here's what Jason D from King City said:
"Our home looks AMAZING and we couldn't be happier! Thank you LawnSavers Christmas Decorators for making our holiday extra special this year!!"