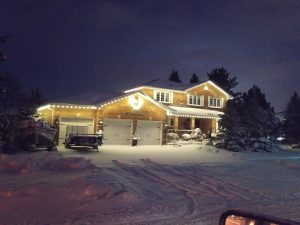 The community of Caledon is made up of many beautiful and scenic towns and villages spread out among countless trails and parks. It is a particularly lovely area of Southern Ontario. And especially so at Christmas time when dazzling displays of lights can be viewed throughout the various neighbourhoods. Decorating your home for Christmas is a charming way to celebrate but it can also be a lot of work. That is where LawnSavers can come to the rescue. Let our dedicated Christmas light installation professionals handle putting up your lights and decorations this year. We have been installing beautiful Christmas lights in the Caledon area for many years; and can ensure your home looks elegant, festive and fantastic this Christmas season!
Why Getting Your Christmas Lights Installed In Caledon Is Worth It
Whether it's testing burnt out bulbs, trying to untangle wires, or climbing up and down a ladder, there are many reasons to let the Christmas decorating experts at LawnSavers handle the job of installing your Christmas lights. Whether you live in Belfountain, Bolton, by Hwy 9 or anywhere in between we will visit you at your Caledon residence and come up with a decorating design that will bring your Christmas vision to life. The difference in having professionals handle your Christmas light installation is that we specialize in custom fit LED Christmas lights for homes and businesses. LED lights last longer than normal Christmas lights, shine 5-6x brighter, and use up to 97% less electricity than traditional lights. And we measure each roof area and custom fit the length of each strand of lights during our Christmas light installation process to avoid unsightly wires hanging down.
All you need to provide is the power. We take care of the rest to complete your Christmas decorating project. We provide & include:
The design
The decorations, timers, extension cords & lights
The installation of the Christmas lights
Timely removal of the lights once the season is over. Including itemizing and storing everything safely for next year.
Hassle-free replacement! If any part breaks on its own before Christmas we'll come and replace them.
One of our professional Christmas decorating design consultants will come to your Caledon home; and help you figure out exactly what you are looking for when it comes to decorating your house this Christmas! With Decor & Lighting packages start at $1000, see some of our beautiful design work for yourself check out our gallery.
If you live in Caledon and are interested in having professional Christmas light installers help you this season, please fill out our contact form or give us a call at 416-707-9994.
Check out what J. Serpe had to say about us on
Homestars
.
"I have been using LawnSavers Christmas lighting for about 3 years and would not recommend anyone else but them to do your Christmas lights. Their attention to detail is impeccable and always make sure the lights are to perfection. The lights speak for themselves but what is truly amazing is the service that the staff (Elves) provide. They ensure that the lights are perfect until Christmas and if there are any problems, they are there to fix them as soon as possible. Knowing that the Elves are there to make sure everything is perfect makes Christmas lighting less stressful. Head Elf Kyle and Stephanie are extremely helpful and treat you as if you are family. I truly would not recommend anyone else to do Christmas lights but them."
5/5 ⭐⭐⭐⭐⭐
J. Serpe
(Sept 11, 2017)
Other Christmas Services In The Caledon Area
Christmas Tree Farms
Elliott Tree Farm
9467 Erin East Garafraxa Townline,
Hillsburgh, ON N0B 1Z0, Canada
(519) 216-0699
http:// www.elliotttreefarm.ca/
Ontario Tree Farms
12465 Albion Vaughan Rd,
Kleinburg, ON
(416) 606-6883
http://ontariotreefarms.com/
Hockley Valley Farm
307509 Hockley Rd,
Mono, ON
(905) 715-0520
http:// www.hockleyvalleyfarm.ca/
Christmas Decorations & Wreaths
Glen Echo Nurseries
15070 Airport Rd,
Caledon East, ON
(905) 584-9973
http:// www.glenecho.com/
The Sisters Touch of Christmas
14155 Caledon King Townline S,
Bolton, ON
(905) 859-8077
https://thesisterstoc.com/
Humber Nurseries 2020 Ltd.
14905 Bramalea Rd,
Caledon East, ON
(905) 794-0555
http:// www.gardencentre.com/
Photography Studios
Your Eye on Photo
15388 Airport Rd,
Caledon East, ON
(416) 579-6748
http://www.youreyeonphoto.com/
Shannon Horbatiuk
8 Walker Rd W,
Caledon East, ON
(905) 586-1653
http://shannonhorbatiuk.com/
ENVZN
18 Lizzie Ct,
Caledon East, ON
(647) 239-1313
Bakeries
Four Corners Bakery
15935 Airport Rd,
Caledon East, ON
(905) 584-0880
Gabe's Country Bake Shoppe
15977 Airport Rd,
Caledon East, ON
(905) 584-5360
Fancy Frostings
7091 King St,
Bolton, ON
http://www.fancyfrostings.ca/