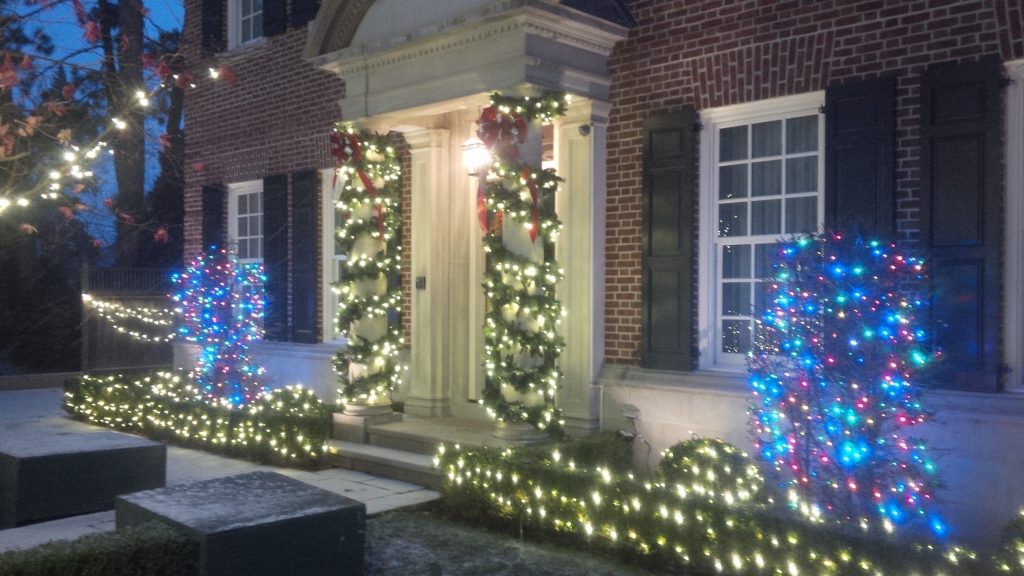 Christmas time is a magical time of year, everything shimmers and glimmers and glows. But with all the other things on your Christmas to-do list; do you really want to have to tackle putting up the Christmas lights? Spending hours untangling bundles of wires, checking endless bulbs for burnt-out ones, and then climbing up and down on a ladder. There is a solution. Let the dedicated team of Christmas light installation professionals at LawnSavers do it for you. We have been installing beautiful Christmas lights in Brampton for many years at a fair price for full installation and clean up. Your home will be the talk of the neighbourhood, elegantly and festively decked out this Christmas season!
Our professional Christmas decorators will meet with you to discuss your decorating vision for your home and then we will create and install a design that works within your budget. Our goal is to make sure you get best value and make the biggest impact. And we sell only commercial quality decorations that are yours to keep when the season is over.
Why Getting Your Christmas Lights Installed In Brampton Is Worth It
Whether you live near Heart Lake Conservation Park, in Bramalea or Churchville, near Mississauga Rd, or anywhere in between; our residential Christmas light installation experts will make your home look spectacular. Letting someone else handle the installation ensures that everything goes smoothly. It is well worth the cost to have your Christmas lights installed in Brampton. With our Christmas light installation process we take the time to measure each roof area and custom fit the length of each strand of lights. And we only use custom fit LED Christmas lights for homes and businesses. These LED lights last longer than normal Christmas lights, shine 5-6x brighter, and use up to 97% less electricity than traditional lights.
All you need to provide is the power. We take care of everything else needed to complete your home's Christmas decorating project. We provide & include:
The design
The decorations, timers, extension cords & lights
The installation of the Christmas lights
Timely removal of the lights once the season is over. Including itemizing and storing everything safely for next year.
Hassle-free replacement! If any part breaks on its own before Christmas we'll come and replace them.
If you live in Brampton and are interested in having professional Christmas light installers help you this season, please fill out our contact form or give us a call at 416-707-9994. Decor & Lighting packages start at a price of $1000.
Check out what Vince had to say about us on
Google
.
"WOW, spectacular! That's the word that all our guests said as they walked through the door. "The Christmas lights are spectacular" "WOW, feels like we are in a winter wonderland with the lights and snow." Working with the team was great, very professional and wanted to make sure we were very happy with the installation of the Christmas lights."
5/5 ⭐⭐⭐⭐⭐
Vince Galifi
(Sept 11, 2017)
Other Christmas Services In The Brampton Area
Christmas Tree Farms
Wintersinger's Christmas Tree Farm
5837 3 Line,
Hillsburgh, ON
https:// www.wintersingers.com/
Ontario Tree Farms
12465 Albion Vaughan Rd,
Kleinburg, ON
(416) 606-6883
http://ontariotreefarms.com/
Christmas Tree Farms Direct
5635 McAdam Rd,
Mississauga, ON
(647) 799-9589
Christmas Decorations & Wreaths
Christmas Tradition
6605 Ordan Dr,
Mississauga, ON
(800) 561-5515
http://www.christmas-tradition.com/
The Snowman Factory
5990 Rutherford Rd,
Woodbridge, ON
(905) 856-7669
http:// snowmanfactory.com/
Party City
Centennial Mall, 227 Vodden St E,
Brampton, ON
(905) 460-9720
https://www.partycity.ca/en/store-details/on/brampton-on-party-city.store.html
Photography Studios
DA Photography
3 Riggs Dr,
Brampton, ON
(905) 216-2854
https://www.daphotostudio.com/
Pistu Studio Productions
630 Peter Robertson Blvd Unit 5,
Brampton, ON
(647) 801-3595
http:// www.pistustudio.com/
Classic Digital Photography
2945 Sandalwood Pkwy E UNIT # 7,
Brampton, ON
(905) 789-9494
http://www.classicdigital.ca/
Bakeries
Grey Matlock Bakery
168 Kennedy Rd S,
Brampton, ON
(647) 923-6081
http:// www.greymatlockfoods.com/
Traditional Bakery & Cafe
4 McLaughlin Rd S,
Brampton, ON
(905) 796-6361
http://traditionaltastebakery.ca/
Grand Bakers
230 Sandalwood Pkwy E Unit #9,
Brampton, ON
(905) 970-9992
http:// bramptoncakes.com/