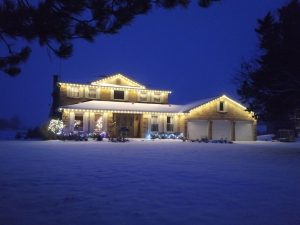 There's nothing quite as festive as driving around at night taking a look at all the different twinkling and glowing Christmas light displays in your neighbourhood. As beautiful as they are to see they can be a major pain to install. All the time and energy that go into untangling light strands, checking for burnt out bulbs, and climbing up and down a ladder can be exhausting. So why not let someone else help you make your home the talk of the town this Christmas? More accurately, why not let our professional Christmas lights installers do it?
LawnSavers is the number one residential Christmas decorating service in the Bradford area. We specialize in installing custom fit LED Christmas lights for homes and businesses. LED lights last longer than normal Christmas lights, shine 5-6x brighter, and use up to 97% less electricity than traditional lights saving you quite a bit of money. Not only will your Christmas light shine brighter, but because our Christmas light installers take the time to measure each roof area and custom fit the length of each strand of lights everything is neat and tidy! With no unsightly wires hanging down.
What Does Your Christmas Lights Installation Include?
No matter where you live in Bradford, whether near the 9th Line, Bradford Highlands Golf Course or anywhere in between; all you need to provide is the power. We take care of everything else needed to complete your project. We provide & include:
The design
The decorations, timers, extension cords & lights
The installation of the Christmas lights
Timely removal of the lights once the season is over. Including itemizing and storing everything safely for next year.
Hassle-free replacement! If any part breaks on its own before Christmas we'll come and replace them.
Our Christmas lights decorating experts delight in making your home merry and will meet with you at your house to discuss all of your Christmas lighting and decorating options. We offer more than just lights and invite you to take a look at products page for the full range of our offerings with Decor & Lighting packages start at $1000.
If you live in Bradford and are interested in having professional Christmas light installers help you this season, please fill out our contact form or give us a call at 905-707-9994.
Check out what Vince had to say about us on
Google
.
"WOW, spectacular! That's the word that all our guests said as they walked through the door. "The Christmas lights are spectacular" "WOW, feels like we are in a winter wonderland with the lights and snow." Working with the team was great, very professional and wanted to make sure we were very happy with the installation of the Christmas lights."
5/5 ⭐⭐⭐⭐⭐
Vince Galifi
(Sept 11, 2017)
Other Christmas Services In The Bradford Area
Christmas Tree Farms
MacPherson Christmas Tree Farm
17422 ON-48,
Whitchurch-Stouffville, ON
(905) 717-0499
Drysdale's
6635 Simcoe County Rd 56,
Egbert, ON
(705) 424-9719
http://www.drysdales.ca/
Horton Tree Farms
5924 Slaters Rd,
Whitchurch-Stouffville, ON
(905) 888-1738
http://www.hortontreefarms.com/
Christmas Decorations & Wreaths
Floral Expressions By Me
Bradford, ON, Canada
(647) 980-3482
http://www.floralexpressionsbyme.com/
Carolyn's Christmas Wreaths
249 Collings Ave,
Bradford, ON
(705) 984-3043
http:// carolynschristmaswreaths.ca/
Santa'Ville
17600 Yonge St,
Newmarket, ON
(647) 699-3504
http://www.santaville.ca/
Photography Studios
Shanna Parker Photography
71 Trailside Dr,
Bradford, ON
(905) 252-8377
http://www.shannaparkerphotography.ca/
Shahrouzphoto
7 Gwillimbury Dr,
Bradford West Gwillimbury,
(647) 975-8312
http:// www.shahrouzphoto.com/
Bare Photography
120 Harvest Hills Blvd,
East Gwillimbury, ON
(289) 338-0358
http://www.barephotography.ca/
Bakeries
Caldense Bakery
442 Holland St W,
Bradford, ON
(905) 775-7400
http://www.caldensebakery.ca/
Sweet B's
4 Holland St W Unit 3,
Bradford, ON
(905) 551-5222
http://www.sweetb.ca/
Portugalia Bakery
189 Holland St E,
Bradford, ON
(905) 778-0003