Hire The Best Lighting Company For Your Set Design In Toronto
If you are a production set scouter looking for a professional lighting company for your next holiday based film look no further than Lawnsavers.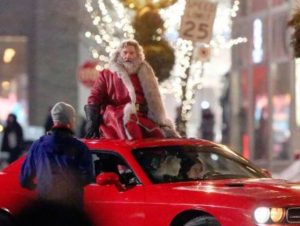 In addition to commercial and residential Christmas lights installation, we also provide special holiday lighting for Movie and TV show set decorating in the Greater Toronto area! When it comes to movie prop rental for your Christmas movie shoot you need a company that understands the importance of using industrial quality materials and proper and efficient set up. Lawnsavers has years of experience providing top quality Christmas lighting and decorations in Toronto and the surrounding regions.
Why We Are Your #1 Choice For Christmas Movie Set Design Lighting Rentals
✅ Our staff has 30 years experience in the film lighting industry. We understand the unique needs when working alongside film crews and set decorators. We can be on and off your film or television set quickly and efficiently with no disruption.
✅Our lights have been camera tested for flicker (samples available upon request for your project)
✅LED: extremely low electrical draw. Many of our lighting products are Dimmable
✅We are CSA approved and are fully WSIB Compliant and carry full Liability Insurance. All staff are certified with "Working at Heights" and we also have our Aerial Lift Operators licences
✅LawnSavers offers 24/7 availability to meet your filming schedule throughout Toronto and Southern Ontario
✅We offer movie prop rentals of not only Christmas lights but also decorations including; wreaths, garlands, bows, tree lights, mini lights, patio lights, building lights etc.
What Is Included When You Hire Lawnsavers As Your Film Set Design Lighting Rental Company
We will be on set as early as you need and stay as long as is necessary to make sure all of your film lighting needs are covered. We are capable of handling the entire set up including: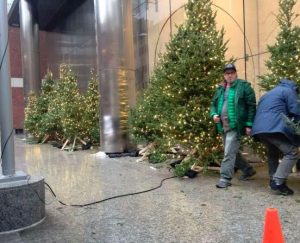 Tree lights on boulevards, roadways, promenades and for backgrounds

Trunk and branch wraps

Canopy and spiral wraps

House lights or building outlines

Patios and backyard scenes with overhead lights or background twinkle lights

Garlands and wreaths for street poles and quaint town and country streetscapes, shopping districts (with or without lights and bows)
If you work for a production company and are currently looking for a top quality Christmas lighting rental company contact our office today to set up your free consultation.
Our Christmas Lighting Work Has Been Featured In Movies, TV And Film.
Pictured below is a recent example of work we did on the film set "Christmas Chronicles" A Netflix film – shot in Toronto and surrounding area